THE MARKETING COLLECTION
7 Complete Marketing Products Needed to Turn Your Practice into a Marketing Machine
Provide your Marketing Team with the content, tips, tricks and strategies guaranteed to turn them into effective marketers. The Marketing Collection will provide them with CDs, DVDs, Workbooks, Ready-to-Edit and Use templates, copy, pieces and more. From previous, Practice-revolutionizing marketing events to self-study kits that require no additional time from the Doctor. Gift your marketers with the ultimate marketing training tools in the industry.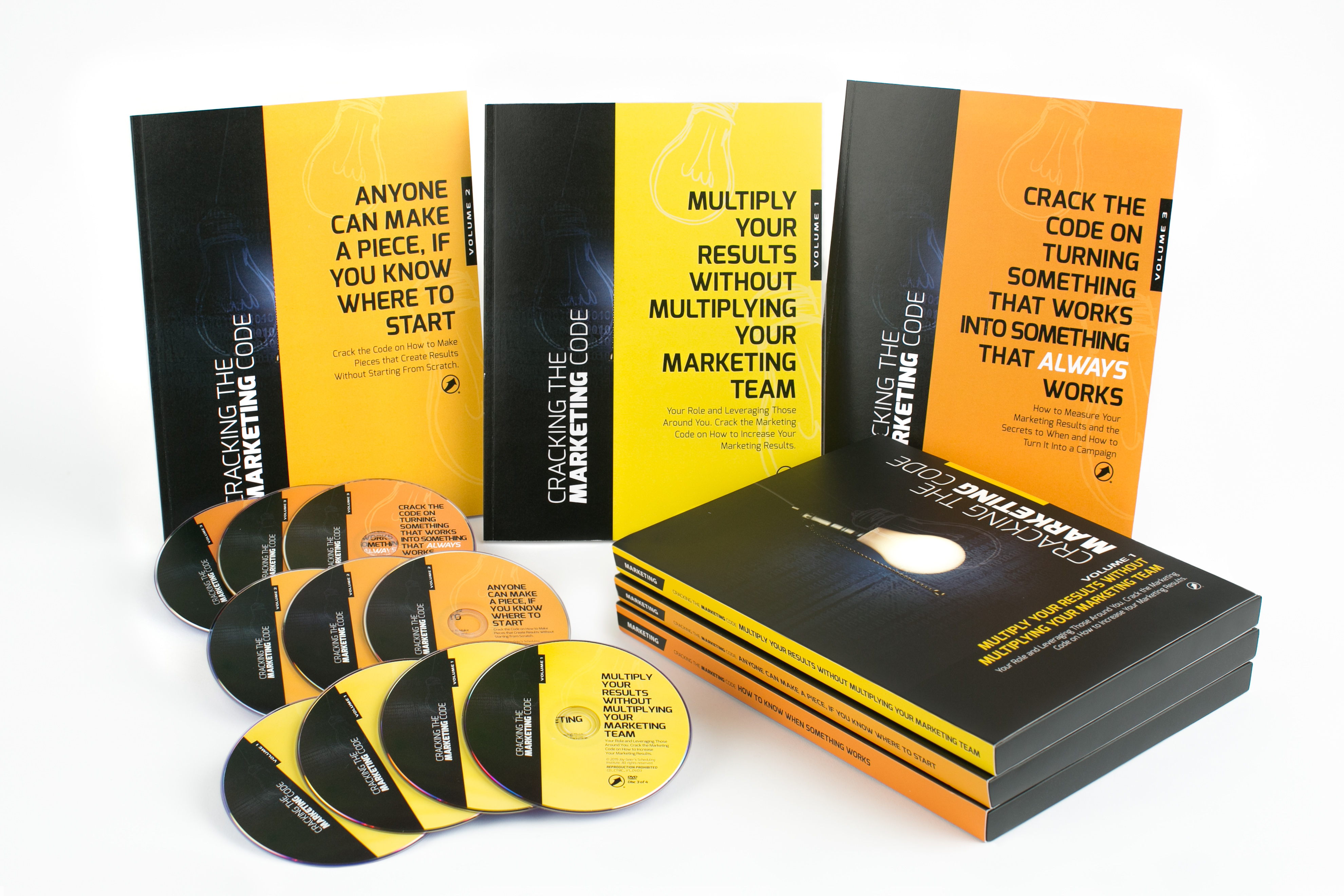 Cracking the Marketing Code
Provide your Marketer with a Street MBA in Practice Marketing. This 3-Volume Self-Study Kit will teach them how to create pieces that generate results. This kit includes access to 29 marketing templates, swipe files, videos and content that can't be accessed anywhere else.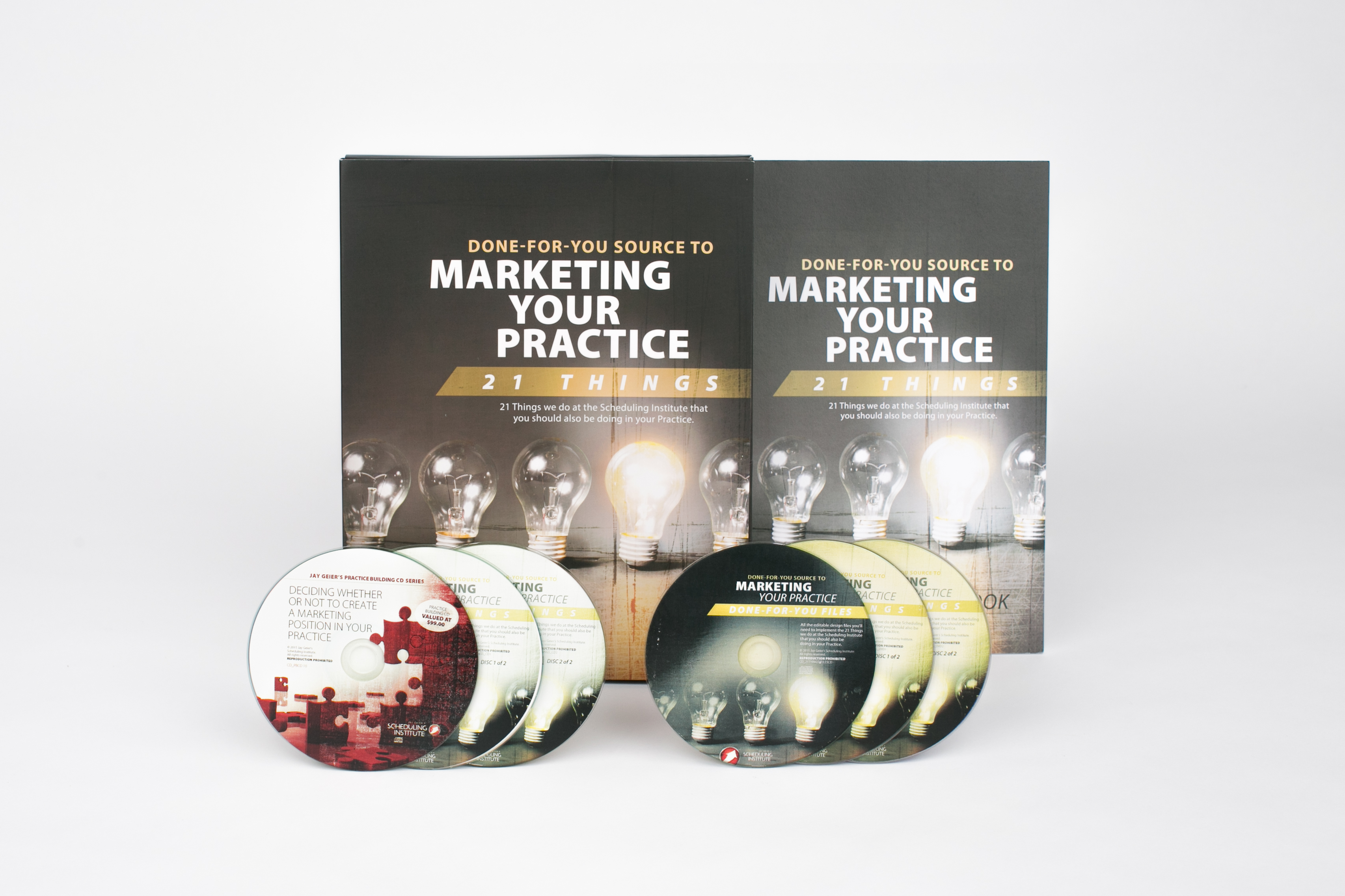 21 Marketing Things
21 marketing ideas, tactics, strategies and solutions that you need to be doing in your Practice. This kit includes done-for-you templates, pieces, verbiage and more so that you don't have to start from scratch and you can implement immediately.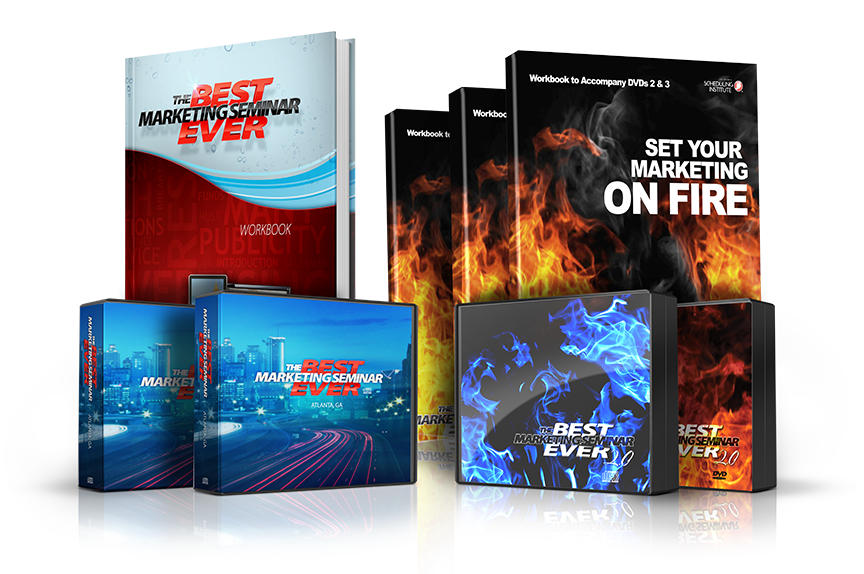 The Best Marketing Seminar Ever 1.0 and 2.0
Two full events jam-packed with the most experienced, prolific and successful marketers of dentistry in North America. Learn the whole truth of ethical, conservative and professional marketing for your Practice! You'll see and hear first hand how to create your own personal marketing machine with the tools, strategies, secrets and tested and proven ever-green marketing campaigns you can use immediately to get new patients in your door within 24 hours.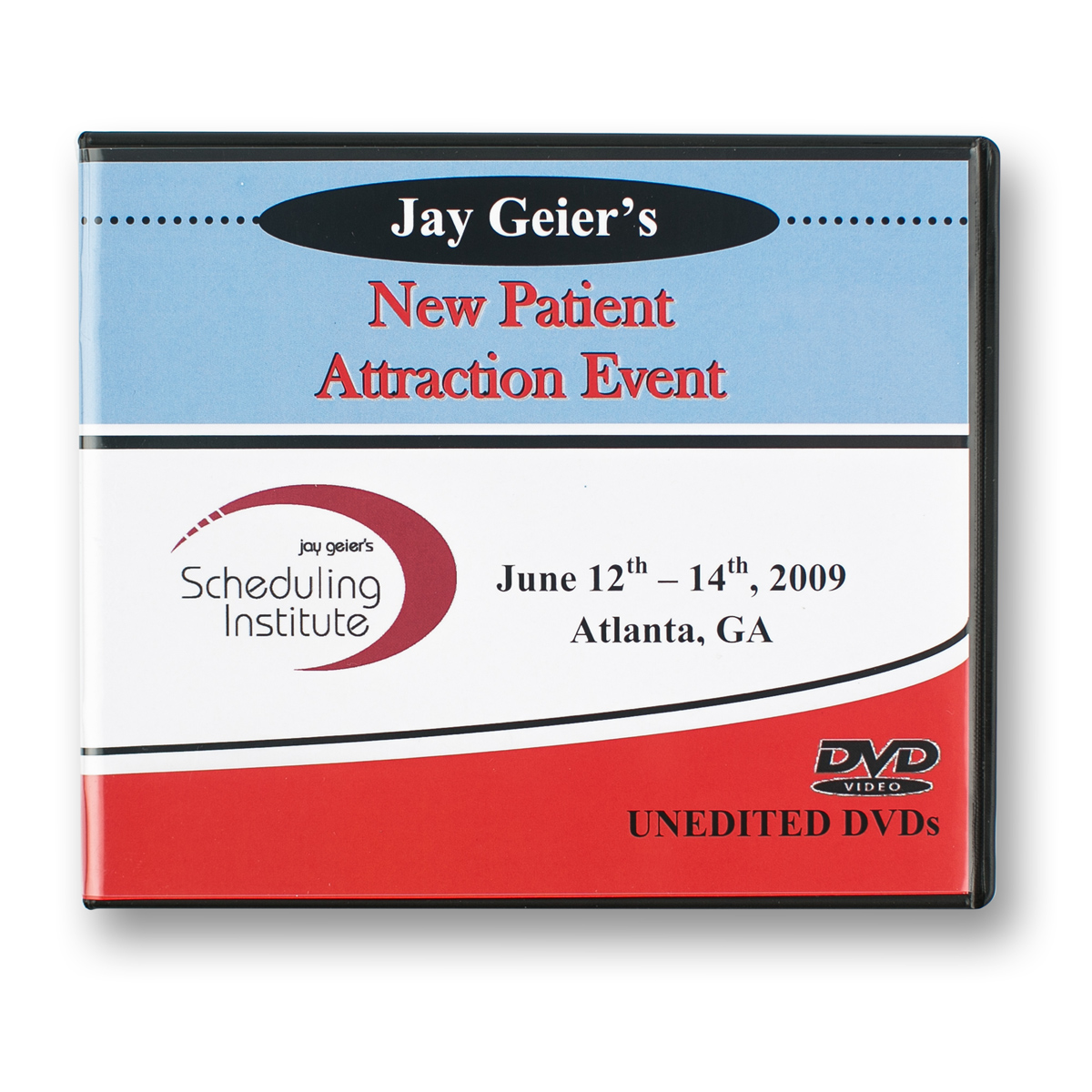 New Patient Attraction Event 2009
This event is old…. but the content is too good to retire! You really can have as many new patients as you want. It doesn't have to be a struggle. It doesn't have to be erratic and unpredictable. It doesn't have to be tricky, salesy or clever either. Discover the secret to attracting new patients to your practice… quickly, easily, dependably and ethically.
WHO WILL BENEFIT?
1. Every doctor who wants a steady, consistent and predictable flow of new patients every month.
2. Every doctor who is SICK AND TIRED of being anxious, frustrated and overwhelmed with trying to get new patients every month… and would just rather have the ability to " flip the switch" and have their new patient flow on auto-pilot.
3. Every doctor who's already successful at getting new patients butwants to "explode" new patients through the roof… and move into a whole NEW income category.
4. Every doctor who just wishes he or she could get "enough" new patients each month… if all you need to do is "pay the bills and have a little left over".
5. Every doctor that wants to maximize their marketing investments and results or are looking to grow their marketing capacity.
WHO SHOULD YOU SHARE THIS WITH?
Here's how to determine whom you should share these tools with…
Do you have a Marketing Department? If Yes…they should ALL watch and listen to this content.
If your practice is smaller then you should consider the following candidates…share this collection with one or two people that are interested/responsible for marketing and/or new patients.
Office Manager
Front Desk Person
Spouse
Marketing Director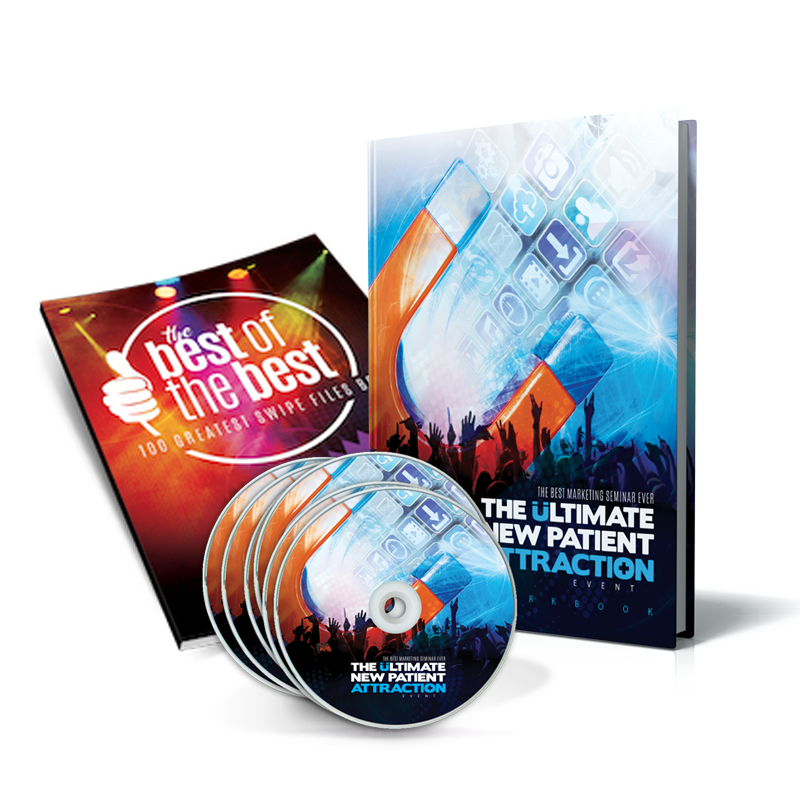 2 BONUS ITEMS!
The Ultimate New Patient Attraction Event 2017
Unedited footage from the biggest event of 2017. Never before seen or heard New Patient attraction strategies that you can use time and time again to attract NEW TOP QUALITY PATIENTS. In addition to Jay Geier revealing his best kept secrets… guest speakers Quinn Tempest, Adam Witty, Jay Acunzo and Max Major discuss the art of influence, search engine utilization, patient conversions, authority marketing and book publishing.
100 Greatest Swipe Files Book
Nearly 300 Doctors and Team Members submitted their Practice's highest, results-producing marketing campaigns and we selected the best of the best to be featured in this book! There's no need to reinvent the wheel when you have over 100 tested and proven marketing campaigns guaranteed to work! From referral contests, reactivation and insurance strategies, online review campaigns and more… these done-for-you marketing ideas have seen ROI's of $200,000, 500+ Reactivations, hundreds of Referrals and more!
NEW PATIENTS ARE THE LIFEBLOOD OF YOUR PRACTICE
It's obvious that without New Patients, your Practice is dead in the water. Of all the pressures within your Practice, the ONE thing that can do the heaviest lifting and relieve those pressures are premeditated, unbreakable and automated New Patient attraction ideas, tips, tricks, formulas and strategies. The Marketing Collection will provide you with all of this and more! With 3 previous marketing events, 2 self-study implementation kits and tools and 2 bonus items… The Marketing Collection will set your Practice up for limitless success.
Hear What Doctors Say About Our Marketing Tools
"This weekend changed my life. It was the best, and I have gone from being mildly overwhelmed by marketing literature and brochures, to now anticipating and looking forward to any mail from you. Call me your latest loyal, raving fan and follower. Even the team is already on fire and they did not even attend."
"This marketing training is invigorating. It's very inspiring. I'm a huge Fact Finder, so I came to learn how to do it without having to reinvent things and work with a system that's in place and that I know is going to work." There is SO much stuff in here that it would take forever to learn it on your own."
"Having me at this event was important because it gave me more information that I need to market in the right way, how to target specific audiences and overall how to help the growth of our Practice."
"Wow! Where can I start?! Just got back from another Scheduling Institute (SI) event and I'm blown away and inspired more than ever! They have been instrumental in helping me deliver a higher level of service to my patients and our rave reviews are proof not to mention our 400% New Patient increase!"
"This is so straight forward when it comes to Marketing. It's honestly like Jay is speaking right to you in regards to your Practice."
"Just want to share with you all that I invested in the 21 Things Marketing product and gave it to my front office. They followed the Reactivation process and had 82 patients schedule (reactivate) within the first 30 days!"