Available for The Category of One Event Attendees ONLY!
TOP PRACTICES

are Always Doing Something to

STAND OUT

from the Competition. What Are You Doing?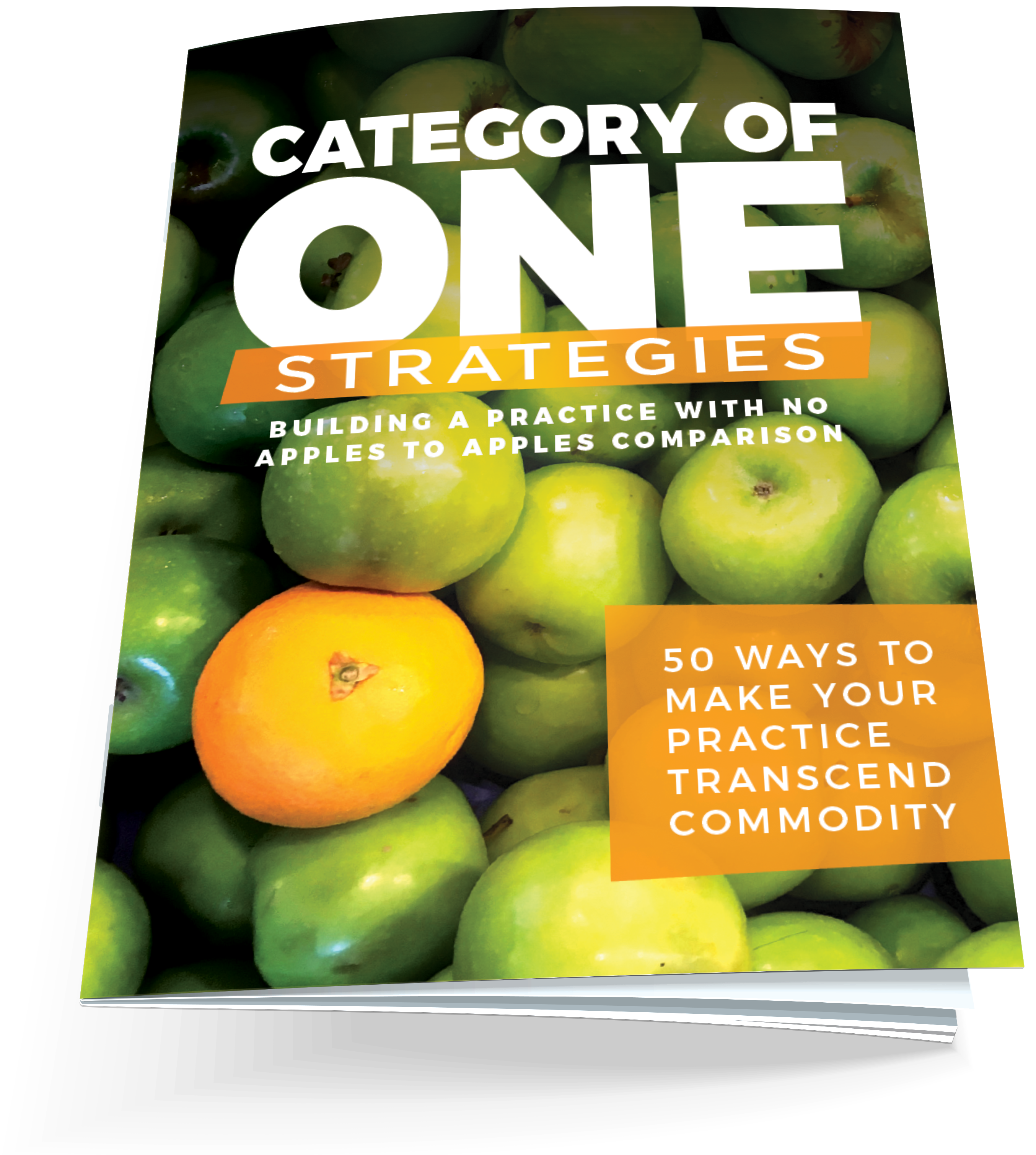 WHAT DOES YOUR PRACTICE DO TO TRANSCEND COMMODITY?
Submit your MOST RECOGNIZED Category of One strategy, giveaway, design, contest, explanation, or handout that your office has created, used, and implemented to build a Practice that has no apples to apples comparison!
ONLY Participants (offices that submit AN entry) in The Category of One Book Strategies Book will receive a FREE copy of the book with 50 of the best submissions! You must be registered and in attendance at The Category of One Event to receive this book. If you submit a strategy that is not featured in the finished product, you will still receive a free copy. All you have to do is submit!
SHARE YOUR CATEGORY OF ONE STRATEGIES AND GAIN 49+ OTHERS
Think outside the box! While all Category of One Practice's transcend commodity in their communities, they all implement different strategies to position themselves as a top practice. What makes your Practice an ORANGE in a sea of APPLES? Is it your team, your space and equipment, the way you treat your patients? There are millions of practicing Doctors in the world today, what do you do to stand out from your competition?
NEED SUBMISSION IDEAS?
How do you keep your patients coming back for more, referring friends, and spreading the word about your practice in the community?
If you've got an outstanding reputation in your area, what did you do to get it?
What do you do to make your patients feel appreciated?
Think about your space and equipment…is that what makes your practice one of a kind?
Have the best team in town? How do you motivate, encourage and train your team to give it their all, every day?
What is the one thing that your patients are constantly complimenting you on?
Above: Sample of what should be included in your submission email.
FREQUENTLY ASKED QUESTIONS
Rules and Deadlines?
Submissions for this book can be any and all things that your practice does to stand out and uniquely set your Practice apart from others (i.e. things that increase New Patients and referrals, patient appreciation gifts, space and equipment, staff training, etc.)!
Submissions must include the following: Strategy, How To Implement, Image(s), And Results/Recognition.
Submissions must be received by July 31st, 2018.
**These ideas will be made into a Scheduling Institute product. Only participants who submit ideas and are at The Category of One Event will receive a free copy. By submitting content, you are granting Scheduling Institute permission to use your ideas and results. Your submissions must be your Practice's ideas and recognition must be real.
How Do I Submit?
Email StandOut@SchedulingInstitute.com with details below. Be sure to include the following:
Strategy – what did you hope to accomplish?
How To Implement – what did you do to make it happen?
Images – take pictures of the thing(s) that make you special!
Results/Recognition – how have your patients complimented your strategy?
There is no limit to the number of strategies an office can submit. Submissions must be received by July 31st, 2018. Click the image above to view an example of a complete submission.
GET REGISTERED!
You must be registered for and attend the 'How to Create a Practice That's in a Category of One' event in order to receive your Category of One Strategies Book.
Do you have what it takes to be a Category of One practice?

Participate and receive 49 other ideas that make private practices avoid apples to apples comparisons.