Ready to Learn the Truth Behind Your Marketing?
Call to Get Started Today 770-518-7575!
The New & Improved
Ultimate Tracking and Marketing Insurance Tool
Available exclusively to Scheduling Institute Members
Do you Know…
How Many Potential New Patients Call Are Going
Unanswered

?
---
CALL TRACKER shows you exactly how many calls are not being answered by your staff and who those callers are. You can use this information to follow up on the calls you missed and salvage the opportunities to schedule an appointment.
---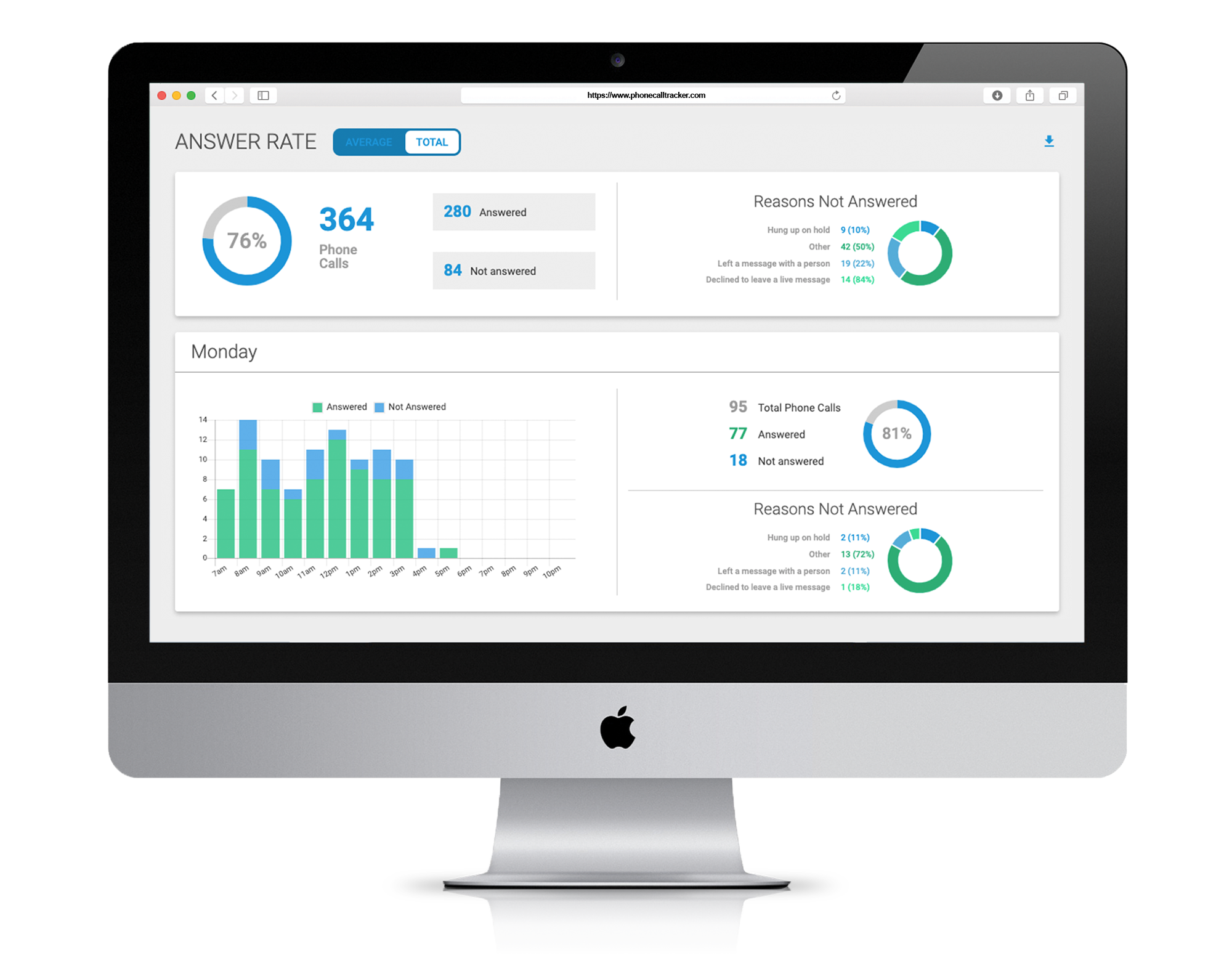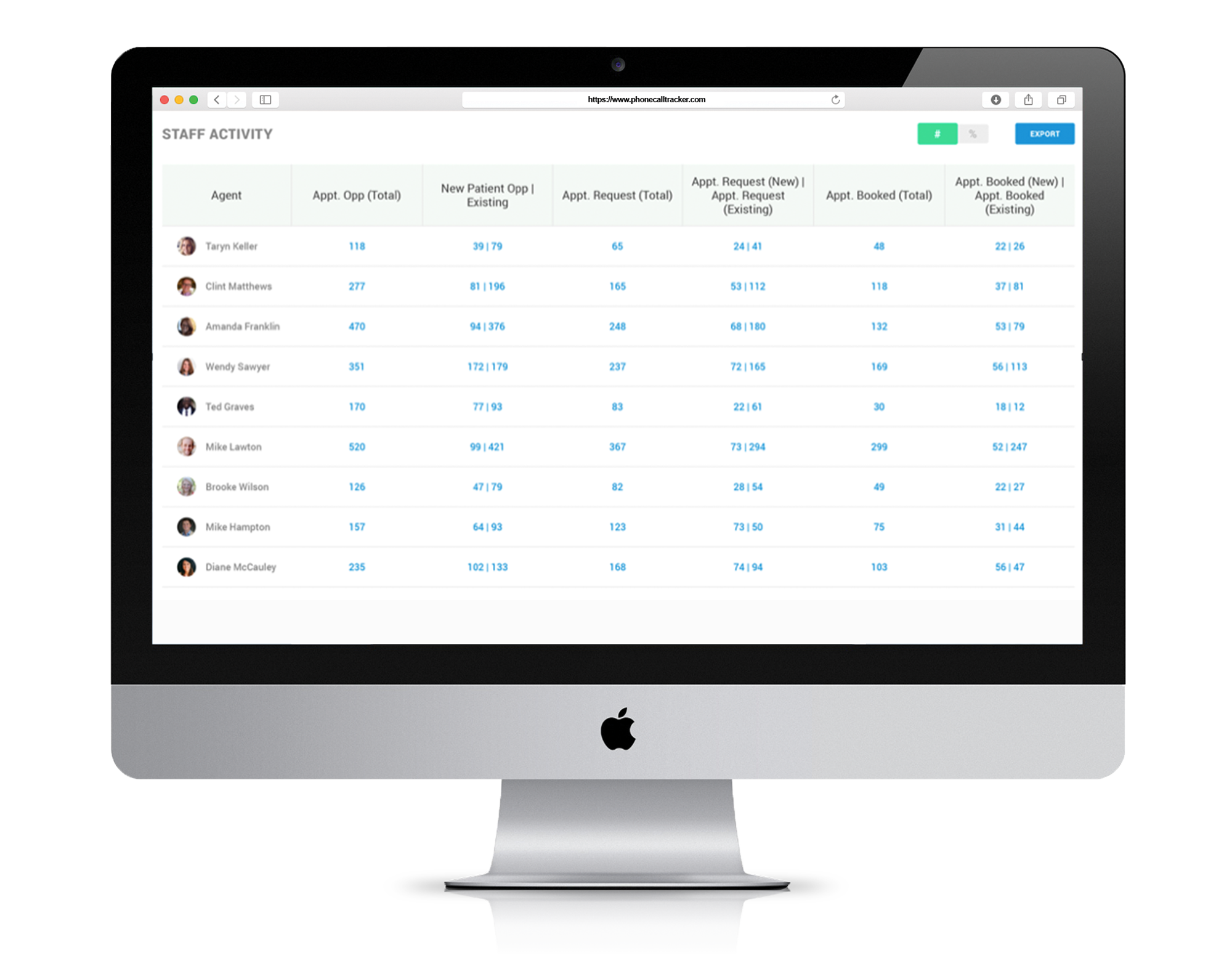 Do you Know…
Which Team Members Are Closing
The Most Appointment Opportunities

?
---
CALL TRACKER tells you who is scheduling the most appointments and who is your top performer. With this information, you can keep your best player on the field and sit your lower performers out for time to train. Let the Scheduling Institute do the training for you! Your team can use your Program Advisor for coaching or join in the Live Role Play Hotline for real-time practice with the pros.
---
Do you Know…
What Marketing Is Generating Calls… And
What Marketing Isn't

?
---
CALL TRACKER shows you exactly what's working and what's not by capturing how many calls are coming from each marketing activity. With this information, you'll know where to keep spending marketing dollars. Always do more of what works! Take the money you are spending on marketing that's missing its target and reallocate it to something new. Remember, testing your marketing is an essential step of the process. You can't test your pieces without an accurate tracking tool.
---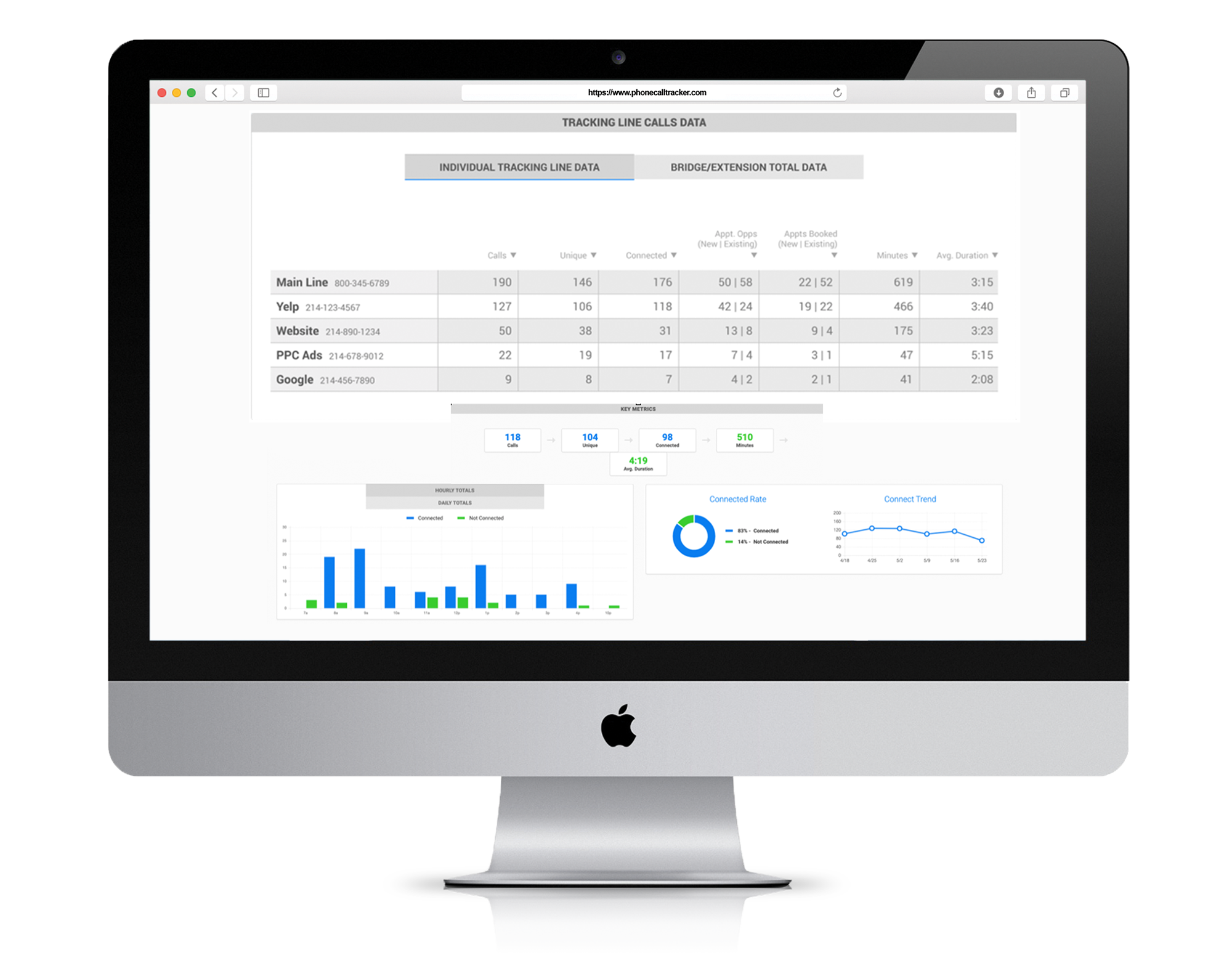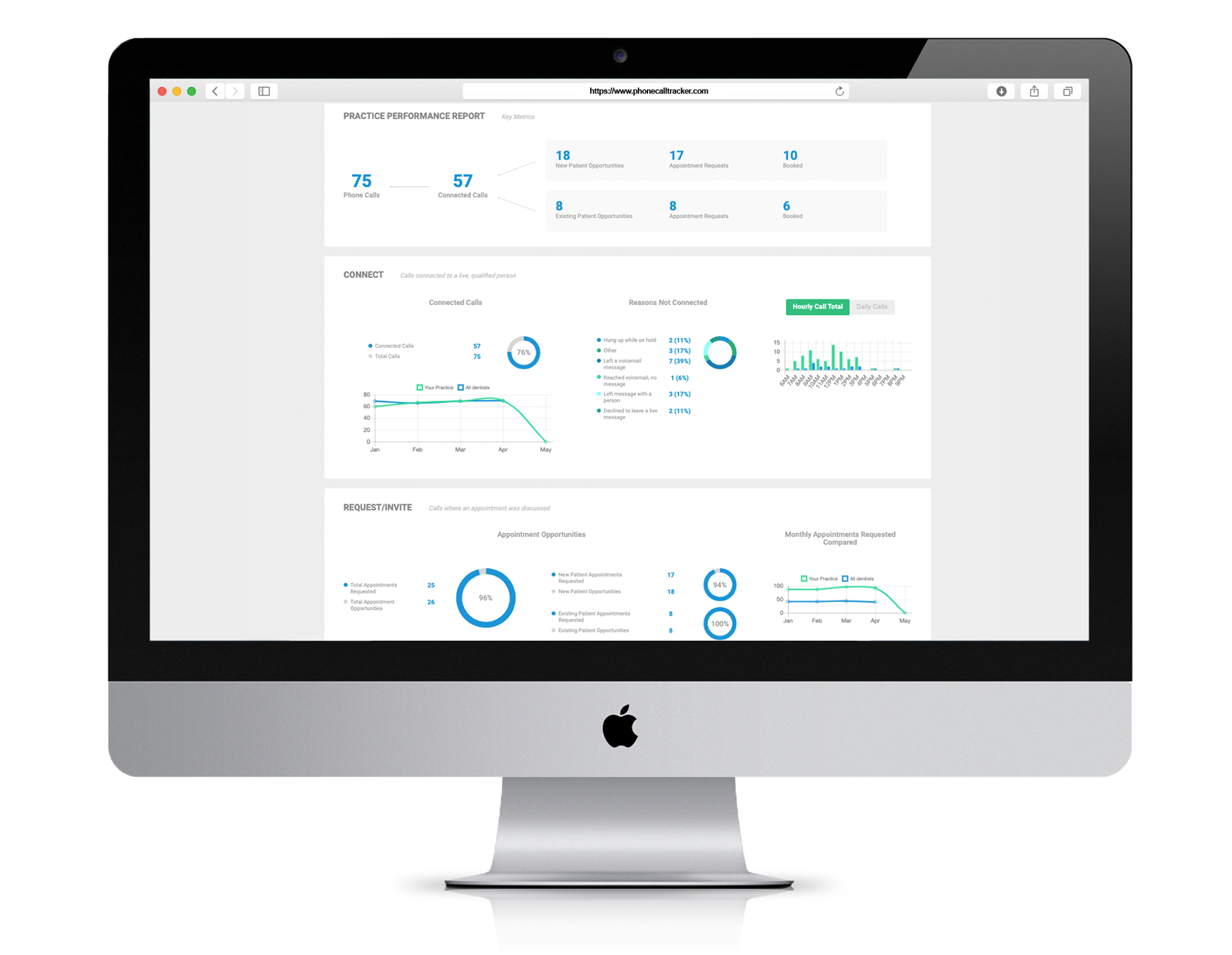 Do you Know…
How Your Real Patient Calls
Are Being Handled

?
---
CALL TRACKER captures live patient calls so you get to hear your staff in an actual call-handling situation. For your convenience, all the calls are recorded and you can listen to them anywhere 24/7, giving you a second chance to capitalize on missed opportunities!
---
STEP 1 : Our team will set up your Call Tracker Dashboard, set up accounts for you and any team members enrolled in 5-Star Certification. No new equipment or phone lines required on your end.
STEP 2 : We will designate tracking numbers local to your practice for you. Seamlessly routing them right to your front desk.
STEP 3 : You and/or your designated Call Tracker Coordinator will join a Call Tracker Specialist on a full demo of the new tools and resources available to you 24/7. The Call Tracker Coordinator will go through an on-boarding checklist.
STEP 4 : You and/or your Call Tracker Coordinator will assign tracking numbers to your marketing and start enjoying the power of Call Tracker in your practice!
STEP 5 : We recommend setting up regular data reviews with your Call Tracker Coordinator and team to make sure you are using the powerful data provided by Call Tracker. Our team will be here to help all along the way!
"We have been using Call Tracker since 2007! The best asset of Call Tracker is the ability to know immediately which one of our pieces have been the most successful in our neighbourhood. Having that information allows me to spend our marketing money in the most efficient way and makes me accountable on how it is being spent!"
"We love Call Tracker! It really is easy to see the results and honestly so easy to use. When we would do marketing in the past it was hard to track results, but now with Call Tracker we can see what our top referral sources are. I stick a Call Tracker number on everything now. Using Call Tracker also helps us keep tabs on the phones and make sure that the team members are using the 5-Star system. We often sit in team meetings and listen to past calls to hear what a 5-star call sounds like and what a 1-star call sounds like. It's also such a great tool to get the team excited about giving 100%. Last month we ran an internal contest where the team would all get $150 if no phone calls were missed for the entire month. Every team member checked our stats daily! Call Tracker is a must for any office that is serious about the money they are spending on their marketing, the 5-Star phone system, and getting results! Thank you SI for giving us another great tool!"
"With Call Tracker we have the ability to listen to New Patient and existing patient phone calls. This allows us to review our strengths and weaknesses and train our team. This has proven to be incredibly valuable. Not only has our front office team improved tremendously with retaining existing patient appointments, they have also retained a 95% scheduling of New Patient calls! Without Call Tracker we were unaware of our mistakes and where we could improve."
"Being able to review calls really helps keep the staff accountable. We've used real calls recorded from our office in training to better identify what makes a 5-star call and practice that. With two offices, we're also really able to compare results and have even begun to see a trend in who has better conversion rates so we can better address areas that need improvement. Overall, Call Tracker has really given our doctors much greater confidence in moving forward or changing marketing plans and the additional staff accountability benefits are just icing on the cake."
"Now, by using a Call Tracker number on each marketing source I can see how many calls are from that source, how many of those callers were New Patients AND how many of those New Patient opportunities were scheduled. It's amazing how many of those sources the staff used to say weren't working are actually doing really well! The biggest benefit of having Call Tracker is having accurate data. With accurate data you can confidently make marketing decisions that otherwise would be based on guesswork!"
"One of the biggest benefits of Call Tracker is that it breaks down the referral sources with a "whisper", which makes the tracking so much easier. It shows us what is working and what is not working. We receive a daily report, weekly report, calls booked report, and most importantly calls not booked report. Also, you can log into your account and it will show you where your calls are originating from, time trends, and breakdowns of marketing strategies. If you don't have call tracker yet you need to call the Scheduling Institute ASAP and get it!"
Ideal for : Single Offices Basic, Minimal marketing, Not tracking website
Includes: Unlimited Tracking Lines,

500 minutes/month,

Free setup and onboarding with a Call Tracker Specialist, Daily Emailed Performance Report,Custom reports.
Ideal for : Single Offices, Moderate marketing, Website tracking
Includes : Unlimited Tracking Lines,

1,500 minutes/month,

Free setup and on-boarding with a Call Tracker specialist, Custom reports.
Ideal for : Multiple Locations, Tracking all marketing, Website tracking, Outbound call tracking
Includes : Unlimited Tracking Lines,

3,000 minutes/month,

Free setup and on-boarding with a Call Tracker specialist, Custom reports.